2023 Housing Market Forecast for Orange County
WHAT A WILD RIDE 2022 HAS BEEN. We started the year with the hottest housing market we have ever seen and ended it with interest rates spiking faster than any time in US history, more than doubling what they were at the beginning of the year. But through all this turmoil in the housing market, US economy, and uncertainty in the global markets, we are starting to finally see signs that 2023 will hopefully bring us a more stable and sustainable housing market. Everyone can probably agree that since the pandemic began, we have seen the most unhealthy housing market ever recorded in terms of how fast homes appreciated. The levels were unsustainable and the longer they went on, the more worrisome it became that at some point it would all come crumbing down. So is that what we are seeing right now? Is the housing market about to crash? That is exactly the question I will be answering for you today.
Now I will try and keep the data analysis to a minimum and just give you the bullet points so this doesn't turn into a novel but here are a few of the topics I will be covering here today:
-Where are we now as we end 2022 in the Orange County housing market?
-What will interest rates do in 2023?
-What will happen to supply and demand in 2023?
-Are we going to see a crash in 2023?
-Risks to the housing market
-My advice for those of you who are thinking of buying or selling a home in 2023
So before we get to 2023, we have to understand where we are now for everything to make sense. So let's briefly look at where we are in the Orange County housing market as we wrap up 2022.
Supply: Right now we are sitting at slightly under 3,000 homes in Orange County. To give that some context, in a normal year (2017-2019) we would be right around 4,000. So supply is about 36% lower than normal. Remember that 36% figure because it will be important later on in this article.
Demand: Pending sales, also known as demand, is sitting at about 1,148 right now which is also about 36% lower than a typical year (2017-2019)
So even though both supply and demand are both 36% lower than their average, normally during this time of year supply is almost always higher than demand and as we get toward the end of the year and the first week or two of January demand tends to drop slightly faster than supply.
Current Rates: Obviously this is the biggest story of the year for real estate but cross your fingers because it looks like we hit peak rates during the end of October/early November and rates have been sliding downwards ever since. We went from a peak of 7.37% to where they sit today at 6.13%, which is a 1.24% drop in just a little over a month and a half. What's the main reason for this sudden drop? We have now had two months of inflation numbers coming back lower than expected, and when inflation falls, so do interest rates. As of now it looks like we have seen inflation peak and it should continue to trend down in 2023. However, rates in the 6's are still high when compared to the already high home prices and make affordability challenging for a lot of potential homeowners. Even though buyers today can now afford a home 12% more expensive for the same mortgage payment compared to last month, homes are still unaffordable to many.
Days on Market(DOM): Days on market is one of the best ways to track how the housing market is moving. It's the time it takes a home to sell from the day they put it up for sale to the day it goes into escrow. Right now in Orange County we are hovering right around 77 days. Due to rates going down over the last month, homes are selling faster now than they did just a few weeks ago when the average days on market was 87 days. As rates drop further, expect this number to continue to decrease. One other thing to note about (DOM) is that in a normal market anything under 90 days is considered a seller's market, but due to the higher rates and unhealthy home prices, we have to throw that model out for now as we are currently in a balanced or slight buyer's market in most areas of Orange County.
Ok so now we know where we are, so now the more important question, and the reason most of you are reading this, is where do we go from here? What is 2023 going to bring for the housing market?
Let me start out by saying, no one has a crystal ball and if the last few years have taught us anything it's to expect the unexpected. So all of these predictions are based on the best currently available data, historical trends, as well as what the top experts in the field are saying. But as always everyone's situation is different so my advice to you is if you are thinking about making a move and want to determine if 2023 is the right time, just let me know. I'd be happy to sit down with you in-person or via zoom and review what your goals are and if making move actually makes sense or not.
Interest Rates for 2023: There are three very strong arguments as to why we will continue to see rates drop throughout 2023. Let quickly go over them.
1 - 30 year mortgage vs. 10 year treasury yield spread is out of balance - The absolute best indication of where current mortgage rates SHOULD be over the last 35 years has been the relationship between the 10-year treasury bonds and the 30-year fixed mortgage. Take a look at this chart to see how they mirror each other almost identically: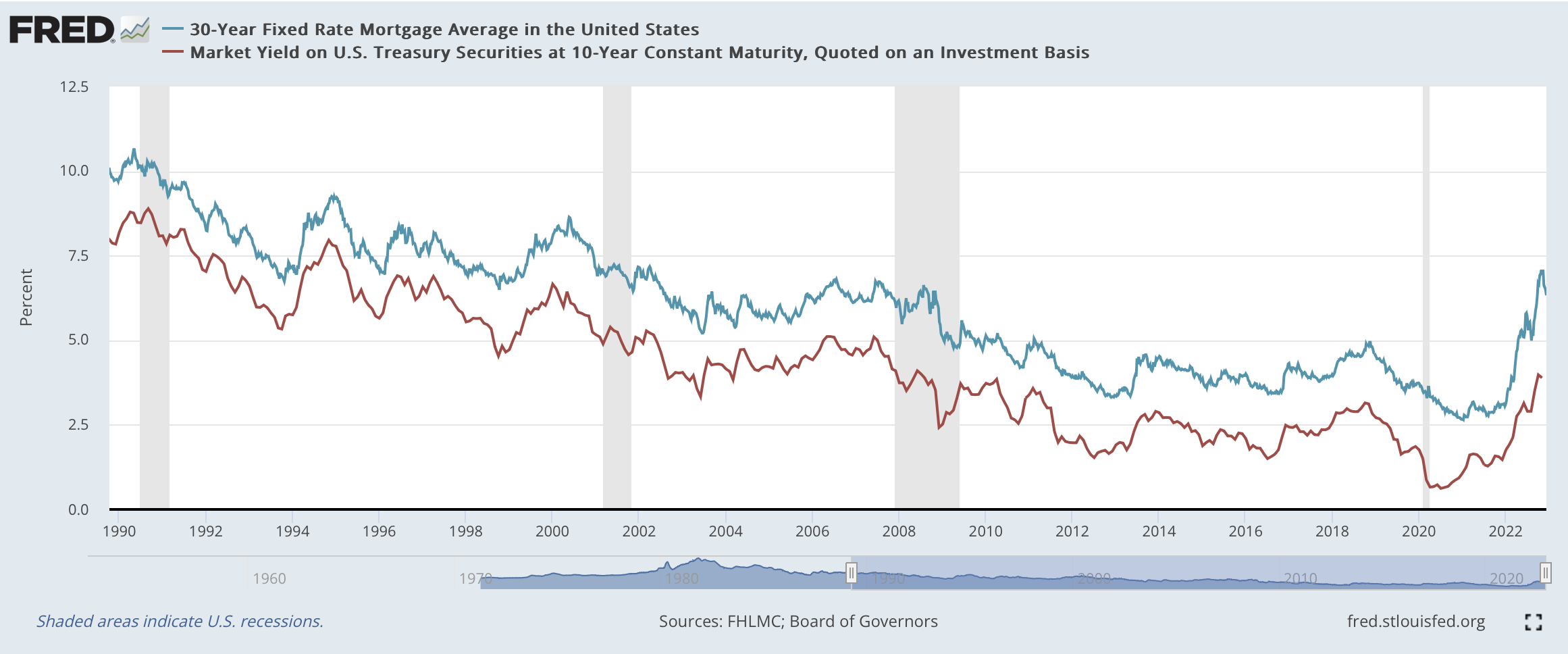 When you go back over the last 35 years, you see a common trend. 30-year mortgages are on average 1.7 points higher than the 10-year treasury bonds. The only two times in recent history where they have been off significantly is right when the covid lockdowns started, and now. Currently the 10-year treasury is at 3.46% and interest rates are at 6.13%. This means that if the market was acting normally, we should be seeing interest rates in the 5.16% range right now.
So why are rates so high? There are two main reasons.
Anytime there is significant uncertainty in the market it tends to have an impact on the spread. So as uncertainty in the market starts to subside we should start to see rates get closer and close to that normal spread.
This one is more complicated but has to do the way loan servers operate and how they are charging more right now because they are pricing in that when interest rates do go down, which is what they are expecting, they will end up losing money.
2 - Recession: Although the housing market is already in a recession, currently the US is not officially in a recession but is expected to fall into one during the first half of next year. The biggest thing you need to know about recessions and interest rates is over the last 50 years, every time the US has entered a recession, by the time they exited the recession, interest rates have gone lower. So although history isn't 100% guaranteed to repeat itself, we have significant data showing that rates will go down during a recession.
3 - Inflation: When inflation goes down, so do interest rates. This again has been shown time and time again in the charts but when inflation goes down you can expect interest rates to follow. This is exactly what is happening now that is currently driving rates down. When the first positive inflation report came out in November, rates immediately dropped by almost .75%, the biggest one day drop for rates in recent history. The markets viewed this as a turning point in inflation and rates adjusted accordingly.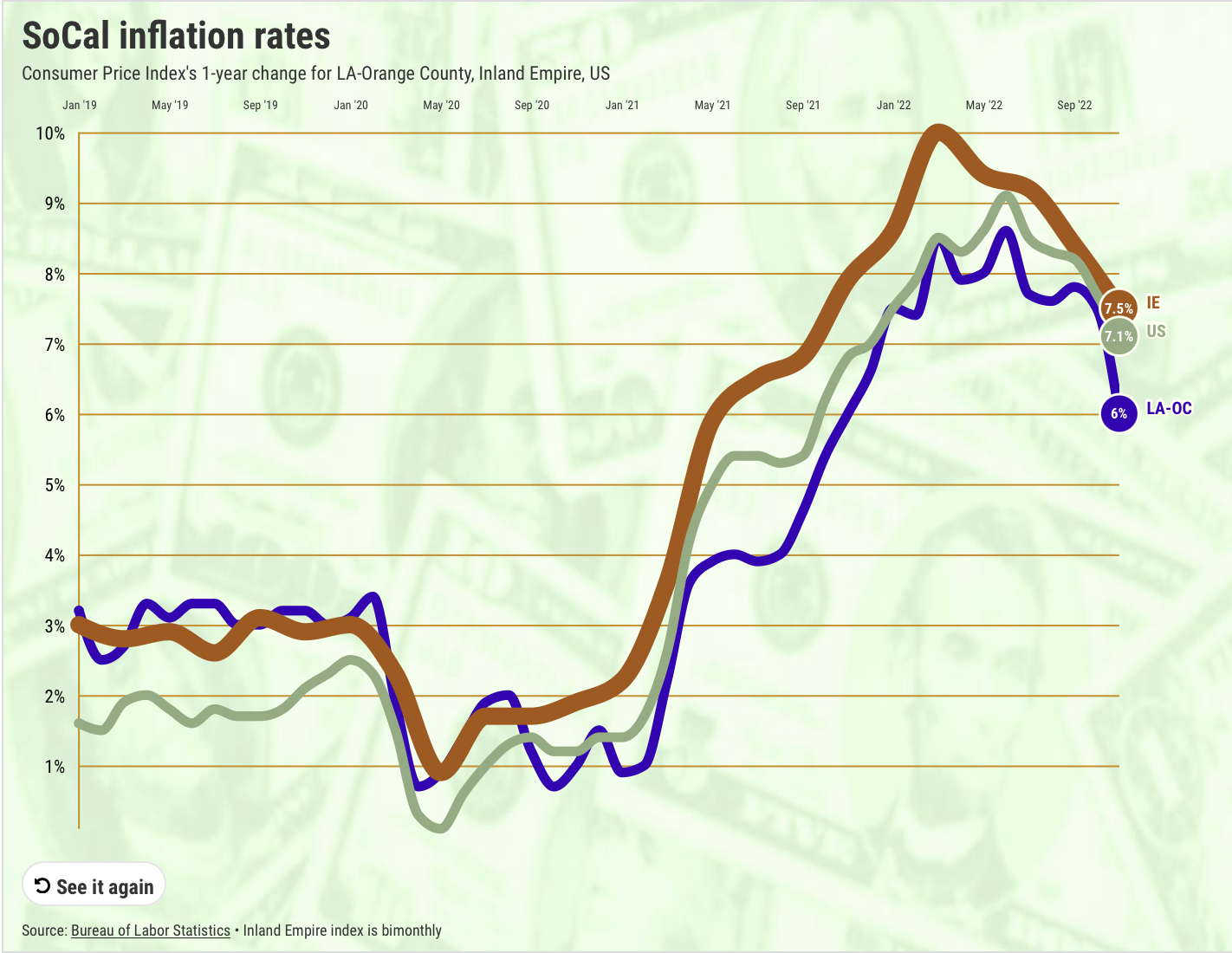 Now although there is significant headwinds for rates going back up at this point, there's always a chance that the last two months of data were an anomaly and inflation jumps back up in the next reading, or some other global disaster hits supply chains again and drives inflation and rates back up. However, at this point the likelihood of that happening is very low. Yes, rates will fluctuate next year up and down slightly but the general trend should be that rates continue to march lower and lower.
How low will they go? If you are hoping for rates back into the 2s and 3s again, you are probably going to be waiting for a very long time, perhaps forever. The rates we saw over the last 2 years are very likely going to be a once in a generation type of anomaly that we won't see again in our lifetime. However, if inflation continues to fall, if we do go into some type of recession next year, and if we get to a point where the markets are a little more stable and predictable. It is completely reasonable to assume we will see rates back into the mid to low 5% range at some point next year(which is my prediction) and there is even a case to be made for them getting into the very high 4s(not as likely).
When will that happen? It's all going to depend on how fast we get inflation under control which at this point which is very hard for anyone to predict. However, I will say when it comes to inflation, shelter costs make up about 30% of the inflation number, but due to the way they measure shelter costs, there is always a lag time of about 4-6 months before you start to seeing changes. Which means at some point early next year the data that we are already seeing on the ground everyday of both home values and rent decreasing will start to be accounted for in the inflation data and therefore will help bring down inflation even more.
Supply in 2023: Supply is predicted to remain lower than normal for at least the first half of the year. Depending how low rates go, there is a chance we see supply pick up speed as we enter the back half of the year, but overall we should see less homes on the market in 2023 than a typical year.
Factors keeping supply low
1 - Mortgage rate lockdown: A mortgage rate lock down has never happened in the past but has become an increasingly worrisome trend due to the rapid rise in rates. Homeowners who either purchased a home during the pandemic, or refinanced their home have locked in historically low rates which in turn has allowed their mortgage to be abnormally low.(In California 40% of homeowners have no mortgage and for the 60% that do, 71% of those have rates under 4%) Because rates shot up so fast, many homeowners that would like to move are finding it really hard to pull that trigger because they are finding out that not only are homes more expensive, but with the higher interest rates some owners are having to spend double on their mortgage just to get into a slightly more expensive home with maybe one extra bed and bath. Financially this is very difficult to swallow, which is keeping a lot of inventory that might have hit the market sitting on the sidelines. Using data from this last year, it seems like the sweat spot for interest rates that would encourage current home owners to start moving again is going to be around 5.5%. When rates were there early this year plenty of sellers where still selling and although some still sat out, once we get to that rate range again(hopefully by mid 2023) we should see some more homes hit that market.
2 - New homes: Builders have put plans to build new homes on hold for the moment. Just last month alone building permits were down almost 30% in Orange County. Yes, there will be some inventory hitting the market earlier in 2023 as the builders finish up the current home already under construction, but once that supply runs out, don't expect to see many new homes the second half of the year. Also, a new trend is emerging where builders are now concentrate more of there resources on build to rent units instead of build to own which means the new homes coming to market in 2023 will help renters out a little more with the supply or rental properties but won't do much for those looking to purchase a single family home.
3 - Homeowners aren't moving: Over the last 30 years a trend has rapidly developed in the housing market. Homeowners just don't move as often as they used to. Back in the 80s-90s most people moved homes about every 7-9 years. Today, depending on what study you look at, that has jumped to 12-18 years and in many cases it's longer than that. Homeowners are choosing to stay put and improve the home they have rather than go out and find a new place to live.
4 - Foreclosures: I've said it 100 times before, but those waiting for another foreclosure crisis and for thousands of homes in Orange County to hit the market selling at a steep discount are going to be very disappointed. Not only are the current batch of home owners the most well qualified financially responsible owners in US history(largely due to how hard it became to qualify for a mortgage after the last housing crash), homeowner have also never has so much equity in their homes. So if someone did lose a job and needed to sell their home, in 95% of cases that owner is walking away with a profit selling it at current market value. Just to illustrate how much of a non-factor foreclosures are, right now we have a total of 9 foreclosures/short sales in all of Orange County. Do you know how many we had in 2007? 6000 or one in every 3 homes on the market! There is absolutely no data indicating that we will have an issue with foreclosures.
Demand in 2023 - Demand in 2023 will also be lower than average however it's not going to drop to a point where we see a housing crash. In fact, we have already seen demand start to pick up steam again as rates have dropped. More and more buyers are going through the process of applying for a mortgage loan and as rates drop next year, you can expect demand to continue to increase. One of the main reasons for this is we still have a huge deficit of homes in Orange County and California as a whole. On top of that, the largest generation, the millennials, are still entering peak home buying years(early 30's). In fact, Millennials made up almost half of all the housing transactions in the US last year and for the next 2 years we have the largest patch of those millennials entering the market. So the baseline demand will be there.
The biggest factor on just how high demand can get next year will be when and how far rates drop. If we get rates back into the mid 5% range, based on what we saw back when rates where last in that range, which was the end of Summer the housing market was balanced and appreciation was flat. We can expect something similar to happen again if we get back to that range. In fact, because home prices have also come down since the end of Summer when we get back to that 5.5% range I expect demand to be even strong than it was last time around.
So based on where interest rates should be heading and what supply and demand are expected to do, are we going to see the housing market crash next year?
As I said earlier, no one has a crystal ball on where home prices are heading, this is evident in the swing of what housing economists are predicting. Here are there predictions: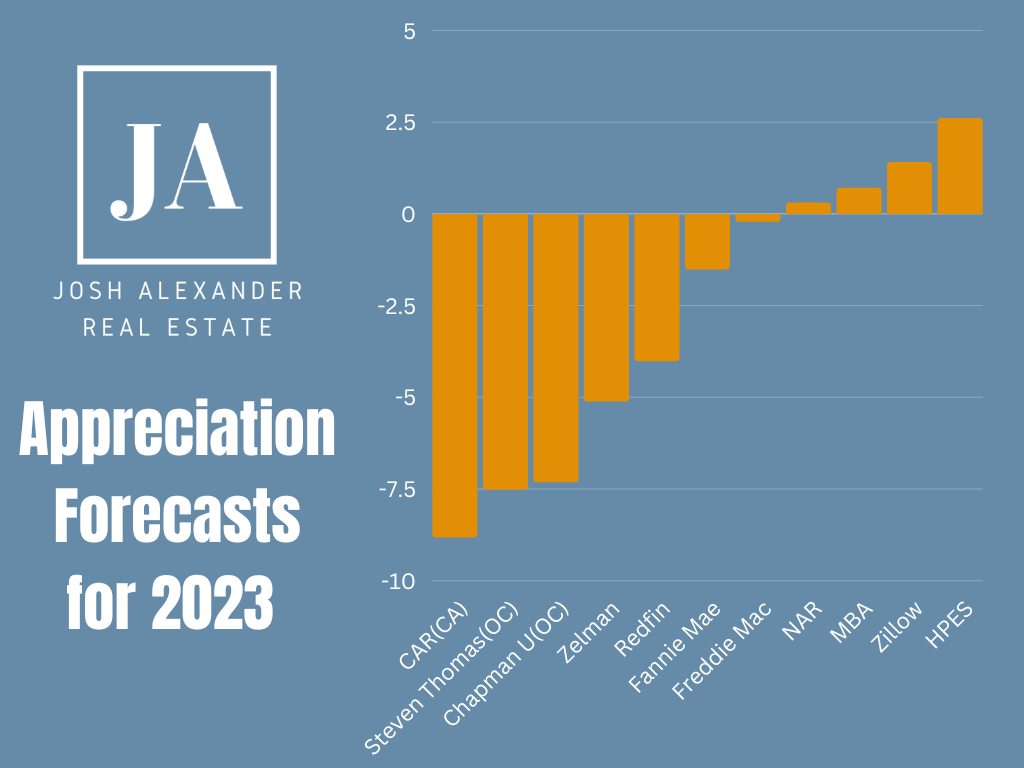 Realtor.com: 5.4%
HPES: 2.6%
Zillow: 1.4%
MBA: .7%
NAR: .3%
Freddie Mac: -.2%
Fannie Mae: -1.5%
Redfin: -4%
Zelman: -5.1%
Chapman University(OC): -7.3%
Steven Thomas(So Cal): -7.5%
CAR(CA): -8.8%
Right now when look at all the major reports both nationally and locally, the experts are predicting somewhere in the range of -8.8% depreciation to 5.1% appreciation. However, I put more weight on what the local housing economist are saying(state and county) than national data and those economists have predictions ranging from -7.3% to -8.8%.
So in my opinion if rates stabilize in the 5% range, it's going to be very unlikely that we see any major movement either up or down in the housing market. In fact that will probably cause the housing market to be balanced, where neither the buyer or seller have any significant advantage. This is exactly what we need in the housing market right now.
However, when that stability of rates getting to the mid 5% range will come is really hard to say and really is the biggest factor on what type of year the housing market will have. After doing hours of research looking over the top economist both national and locally it seems like the general consensus is that we should hopefully see rates slowly move into the mid 5s as we head into Summer in 2023. This means that for the first few months of the year, you can expect to see some additional depreciation in the market, however we are not talking about anything significant. Rates have already come down from their peak and depreciation is slowing down not speeding up. So as each month goes on in 2023 I'm predicting we will see less and less depreciation and eventually getting to a point sometime mid next year where appreciation flattens.
The last point I want to make regarding home values is as you can see, no one is predicting a housing crash next year, any correction that happens would most likely be under 10% and just as a reference point, we saw home values drop as much as 40% during the last housing crash.
So if the current trends continue and play out as expected next year. My prediction is that we could see home values fall 4-7% in the beginning of the year but then stabilizing after that and we would end the year with values year over year falling by that 4-7%. There is still a case to be made(and some economists are projecting this) that home values could end up rising next year by a few percent, however these predictions are based on rates dropping quickly at the beginning of the year and getting down to the low 5% range within only a few months. Again, this could happen, but based on the current trends I think it's less likely than the Orange County housing market losing a few percent of value by years end.
Are we going to see a housing crash in 2023?
So supply is going to be low, demand is going to be low, and interest rates will slowly fall along with home values throughout next year. So what are the chances that we see a major housing crash next year? The quick answer is it's very, very, unlikely. There are so many reasons for this but let's go over a few of the top ones.
-Quality of loans: Right now the US has never seen the loan profiles of homeowners this good before. Thanks to all of the new banking regulations put into place during the last housing crash, mortgages are much tougher to qualify for. Current owners have great credit, can afford the payments on their homes due to income requirements, and most have fixed rate mortgages so there will be no large number of homeowners suddenly getting higher rates that would force them to sell. This is almost completely opposite of what happened leading up to the last housing crash where adjustable rate loans were being given out to anyone that could fog a mirror, regardless of their credit or ability to repay the loan.
-Equity: Again, unlike the last housing crash, homeowner equity, even with the slight depreciation we have seen over the last few months, is still at historic highs. If homeowners lost their job, they have so much equity built up in their homes that they have a lot more flexibility to work with the banks to find a solution until they are able to find a job again. In the worst case scenario where they couldn't get a new job, they are not going into foreclosure and letting the banks sell it at a discount, they would sell it at market value and walk away with tens or hundreds of thousands of dollars in profits to help them as they transition into a rental or different home.
-Jobs: Even if we do start losing some jobs in the next 12 months, which is expected, right now unemployment is at record lows so it would take a significantly worse recession than is currently predicted to impact the number in a way that would impact the supply in the housing market.
-Supply is very low: Again in Orange County we are going to start off the year with significantly lower supply than we typically do. Yes demand will be lower as well, but because they are both down at similar rates this is going to help keep our market stable. We will be going into the new year with less than 3,000 homes on the market. During the last housing crash we had 14,000-16,000 homes on the market in OC, so again you can see that the numbers just don't come close to what we saw last time housing crashed.
-Foreclosures are not happening: As referenced above, we are not going to see a giant wave of foreclosures hit the OC or US housing market next year which was one of the main drivers of falling prices during the housing crash of 2008.
All this demonstrates that the extreme imbalance of supply and demand that would be needed next year to cause a collapse in the housing market is just not going to materialize. So although the chances of a housing crash can never be zero it's so low that if you are waiting around from prices to fall 40%, you're going to be very disappointed by the end of 2023.
Risks to the housing market
So there are three major risks that I am watching in the housing market next year, all are unlikely to happen but again, it's impossible for anyone to predict these with 100% accuracy.
-Inflation starts to go back up: There is always a risk that the lower inflation we have seen over the last 2 month is just a mirage and somehow next year inflation starts to shoot up again. If this does happen, interest rates will climb quickly again putting us into a deeper buyer's market where prices fall faster than expected. When will we know if this is going to be an issue? Not the exact answer I'm sure you want, but we will have to wait and see. As we get the new inflation numbers each month, as long as they continue to show a trend of inflation staying the same or falling, there will be less and less of a risk that inflation goes back up again. So if we get good reports back in January and February I think the chances become extremely low that we get a giant spike after inflation dropped for 4 months in a row. Especially because, like I stated above already, 1/3 of the CPI data is based on shelter costs and those numbers tend to lag by about 4-6 months. We know that home values as well as rental prices are going down on a monthly bases and we should start seeing that appear in the data during the first half of next year, which gives us a buffer on inflation in case some other areas so end up reversing and going up slightly.
-Feds overshoot rate hikes: The Feds are trying to engineer what they are calling a "soft landing" where they raise rates just enough that we go into a mild recession but not a major one. However there is always a risk that the Fed's rate hikes end up being too much resulting in more than expected job losses. Significant job loss can impact the housing market as more people are forced to sell their homes however there is something that everyone needs to remember. If the feds over shoot, the chances of them trying to "correct" their mistake by lowering rates or starting to buy mortgage backed securities again could cause rates to drop significantly next year which would kickstart demand again. So job loss would have to be extreme to really have any noticeable impact on the housing market.
-Uncertainty with global markets: With the ongoing war in Ukraine, tense relations with China, the atrocities going on in Iran, and other major global issues happening right now, it's going to be really hard to predict what could happen if things get significantly worse globally. We have seen how global supply has been impacted with the war already so it's something that I'll be keeping an eye on as it's really the biggest wild card for 2023 right now. Remember, the more uncertainty that is placed on the markets, the higher rates tend to be. It's also important to point out that if some of these issues start to get resolved next year there is always the possibility that these global events could have a positive impact on the housing market instead, so it's really hard to say which way things will go.
Buyer Advice for 2023
Buyers, the good news for you is that homes should be more affordable next year than they were for the last half of this year. As rates and values drop, it will continue to increase your purchasing power. So here is some advice I have for you to help you successfully purchase a home in 2023.
-Mortgage payments should be your #1 focus: Unless you are trying to flip a home or just buying as a market speculator, odds are you're like most people who will be looking for a home to be in for the long term where you can make years of great memories with your family. My number one tip for buyers, no matter the market we are in is to ask yourself three questions.
Can you afford the mortgage payment for the neighborhood you want to be in?
Do you plan on being in that home for 5+ years?
Do you have a secure job?
If the answer to these three questions is YES, then you are ready to buy a home. You need to be looking at your home purchase for what it is, a long term investment and a place to call home for you and your family. The housing market is always going to have it's years of up and downs but if you are in the home for the long term, none of that really matters, because ultimately, the housing market over the long term has aways gone up. Yes, I understand that it's nice to have your home appreciate as soon as you buy it, but what you should be looking at is that predictable payment for your shelter costs every single month for the next 30 years. As you watch your friends complain about their landlords raising their rent every year you can take comfort in the fact that you no longer have to worry about that.
-Talk to multiple lenders: In today's higher interest rate environment, most lender's refinance business, which is where they made a significant amount of money on over the last 2 years, has all but dried up. This means that they are now focused on capturing new home buyers again. So even if you have a great lender, I highly recommend you talk to at least 2-3 lenders before deciding which one to go with to make sure you are getting the best rate possible on your new mortgage. However, it's not all about the rate. You also need to be having conversations with these lenders to see how competent they are in breaking everything down for you in a way you understand. Purchasing a home is one, if not the largest financial transaction of your life and you want to make sure you are working with someone that not only has great rates but also has great communication and can explain everything in a way that makes you feel comfortable. The last thing you want is a surprise fee or cost in the middle of escrow that throws off your whole purchase. If you don't have a trusted lender and want a few great referrals for some excellent lenders, please don't hesitate to reach out as I have some great ones I can recommend.
-Know your timelines: One if the biggest mistakes that home buyers can make is underestimating how long it will take to buy a home. I often talk to buyers who tell me their lease isn't expiring for 6 months so they aren't even thinking about the buying process yet. This is a mistake. Let's look at the average timelines involved and what you need to know so you can plan accordingly.
-4-8 weeks: This is how long it typically takes to get pre-approved from a lender, start touring homes, find the right property, negotiate with the seller, and eventually get your offer accepted.
-4-5 weeks: This is how long a typical escrow will last in today's market, however depending on the buyer and seller needs, it could be long than this.
-35-60 days: This is the time it take from when you close escrow to when your first mortgage payment is due. One of the biggest misconceptions about the mortgage payment process is that your first payment is due on the first of the month after you buy your home. However, this is not that case. You payment will be due the second month after closing. Let me give you an example. If you close on your home on May 15th, your first mortgage payment is not due on June 1st, it's actually due July 1st. Why is this important? A very valid concern that first time home buyers have is they don't want to be paying double payments for both their rent and mortgage. But when you look how this actually works and plan accordingly you can make sure that doesn't happen and still get into a home sooner. This will allow you plenty of time to do any fixes to the home you want to get done before moving in and makes the moving process a lot less stressful as well because everything doesn't have to be done in one or two days.
So based on this info, I typically recommend that buyers really get serious about looking for a new home about 5 months before they are ready to move so they give themself enough time to find the right place and don't end up compromising because they are rushed.
Seller Advice for 2023
-Get your home on the market before Spring: As discussed above, home values are continuing to drop each month, so although you might think that you want to wait until spring to get your home on the market, if it's possible I highly recommend this year that you get it on the market earlier than that. This will give you the advantage of having less competition as well as you'll be able to get a higher price for your home.
-Who you hire matters: Over the last 2 years many homeowners were content with agents that just took some cell phone(or maybe professional) photos and placed the their home on the MLS. Even with poor marketing, your home would sell for above the latest comparable sale because the housing market was just way too hot. You might not have received the highest price by working with one of these agents but you probably came away happy with the money you made. Today's market is completely different. If you hire an agent who is just doing the bare minimum with photos, your home is not going to sell and you are eventually going to have to reduce the price even further because every week your home sits on the market unsold, especially in the first few months of the year, your home is depreciating in value and at the same time less buyers will be seeing it because sites like Zillow, Redfin, etc won't be sending it to potential home buyers very often after the first two weeks.
When you are deciding which agent to hire, you need to really pay attention to their market plan for your home. Today's agent should be offering you at bare minimum these options to help make sure your home is seen by as many qualified buyers as possible:
-Professional Photos
-Professional Video tours
-3D walk through tour
-Floor plans
-Targets fliers going out to your entire neighborhood
-Targeted ads based on who is most likely to buy your home on ALL the major platforms including, Facebook, Instagram, Google, YouTube, and even TikTok. Remember almost half of all buyers right now are millennials so you aren't advertising in the places they are spending their time, you're not going to have as much success
Taking the time to find an agent that knows how to utilize these marketing channels and more will help get your home sold faster and for more money. Want a free guide of what I do to market a sellers home? Just contact me via phone or email and I'll send you a copy of my 10 step process.
Do the major repairs - Do you have a leaky faucet? Does your garage door not open? AC not working? Have outlets in the house that don't have power? In the last few years you might have been able to get away with not fixing these issue before placing your home on the market, but not today. Buyers are taking their time to find the right home, keeping their inspection contingencies in place, and will expect you to fix any major issues that they find in the inspection report. If you have been putting of getting something major fixed, now is the time to get it working again before placing your home up for sale because buyers have more power now than they have had over the last few years when it comes to negotiating repairs.
Facelift: You've probably heard the saying first impressions are everything, and that has never been so true when trying to sell your home. Some of the easiest ways to make your home stand out over your competition is curb appeal. Before placing your home on the market some of the basic things you should be doing/considering that don't cost a lot but will make a HUGE difference include:
-Fresh coat of paint inside the house(consider outside too if needed)
-New carpet or flooring if worn(at minimum you should do a professional cleaning of all of your flooring)
-Make sure all of your lights inside and out are working
-If you have shrubs, plants, flowers that are dying or dead, replace them, especially in the front yard.
-Add mulch to all the planters to give them a fresh clean look
-Don't skip the deep cleaning, make sure all the baseboards, vents, windows, top of fan blades, etc are cleaned before the photos are taken and buyers walk into the home. These small details show the buyer how well the house was kept and shows that pride of ownership buyers will pay more for
-Pressure wash the driveway and outside of home if needed
-Stage your home if possible(it's been proven time and time again, if you have the right staging the costs will pay for itself, your home will sell faster for more money)
Again, all of these items are relatively inexpensive and will make a huge difference when it comes to making sure your home stands out over your competition.
-Price your home correctly: Gone are the days of listing your home $50,000 above the last comparable sale and getting multiple offers the first weekend(in most markets). This is where I see the majority of sellers make the most mistakes because it's hard get used to this new normal for the housing market. Home values in most areas of Orange County and the surrounding areas are falling by 1/2-1% a month at this point. Which means that if you are pricing your home even slightly above the latest compatible sale, it's going to be tough to get a lot of buyers through the door. The worst part of this strategy is that if you come out of the gate and list your home too high, you are missing out on the best 2-3 weeks available to sell your home.
After 2 weeks, your home is not going to be emailed out to hundreds of potential home buyers by places like Zillow and Redfin and everyday that goes by, your home will get less and less views. The only time it will get a boost of traffic again is when you eventually drop the price, and when you do that, the vultures and investors come out and start giving you low ball offers. Eventually you're going to end up with less money in your pocket than if you listed it correctly the first time and it will take a lot longer to sell. Make sure you are looking at reliable comparable sales when making the pricing decision and ideally your agent should be looking at homes that have sold in the last 2-3 months because going back further than that becomes less and less reliable in today's quickly changing environment.
So there it is, my 2023 forecast. If you read this far, thank you I really appreciate it and I hope you got some value out out it and some clarity on what to expect in the housing market in Orange County next year. If there are any specific questions you have, please don't hesitate to reach out to me, because like I stated at the beginning of this, ultimately the decision on whether to buy or sell a home is going to come down to YOUR specific wants, needs, and goals. I'm here to help and will always provide you with no pressure advice giving you the pros and cons of buying or selling in today's market. Have a great holiday season and happy new year!
Josh Alexander
714.366.2186
JoshAlexanderRealEstate@gmail.com
Want weekly updated to keep track of what's happening in the housing market as well as tip on how to WIN in today's market? Subscribe to my FREE weekly newsletter by CLICKING HERE
Want even more daily info on how to successfully buy or sell a home? CLICK HERE to connect with me on your favorite social media platform!
BUYERS:

Thinking of buying a home, want to know the process and costs involved? - CLICK HERE
How to budget for a home - CLICK HERE

SELLERS:

Thinking a selling your home and want to know the process and costs involved? - CLICK HERE
10-steps to marketing your home correctly - CLICK HERE
Want to get a monthly update on your home's value? - CLICK HERE