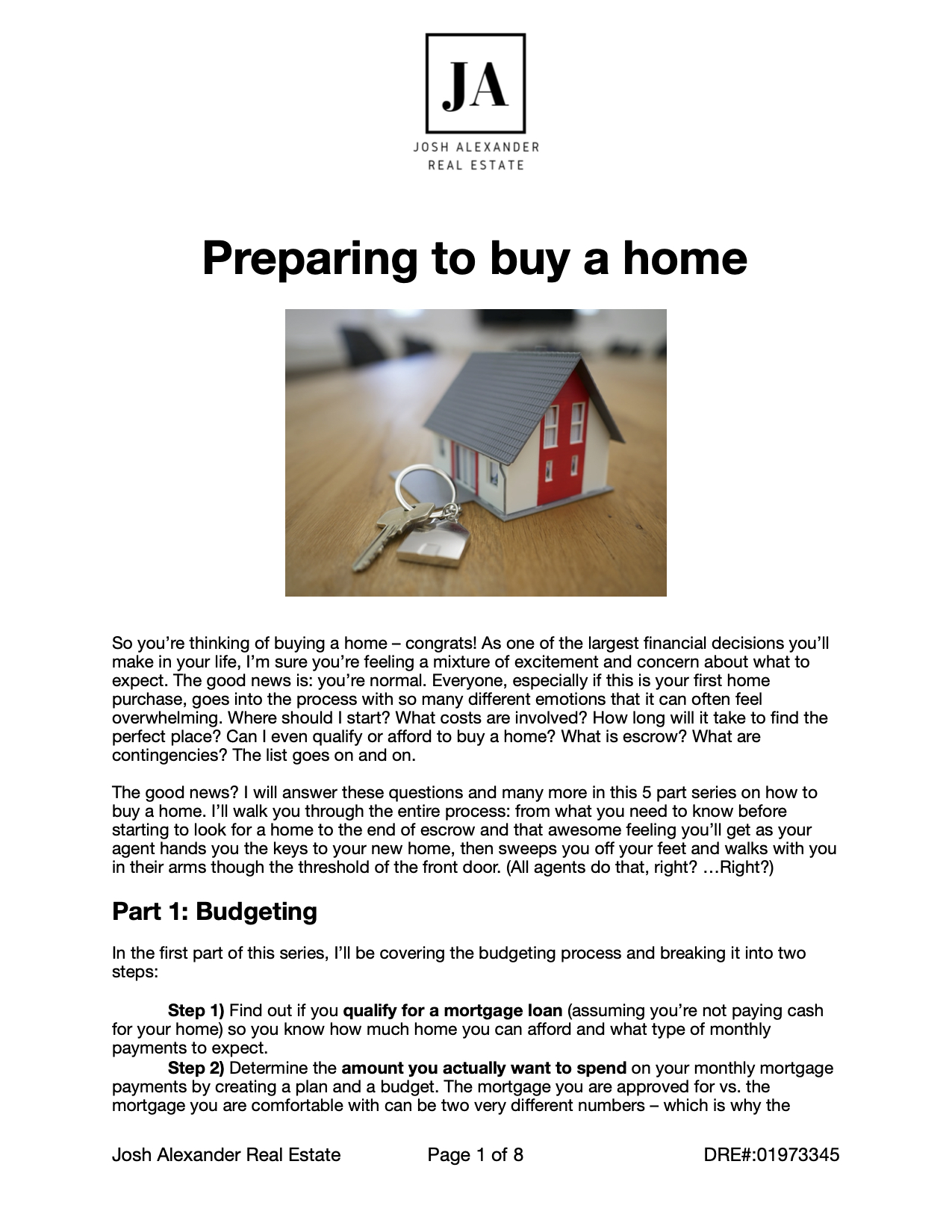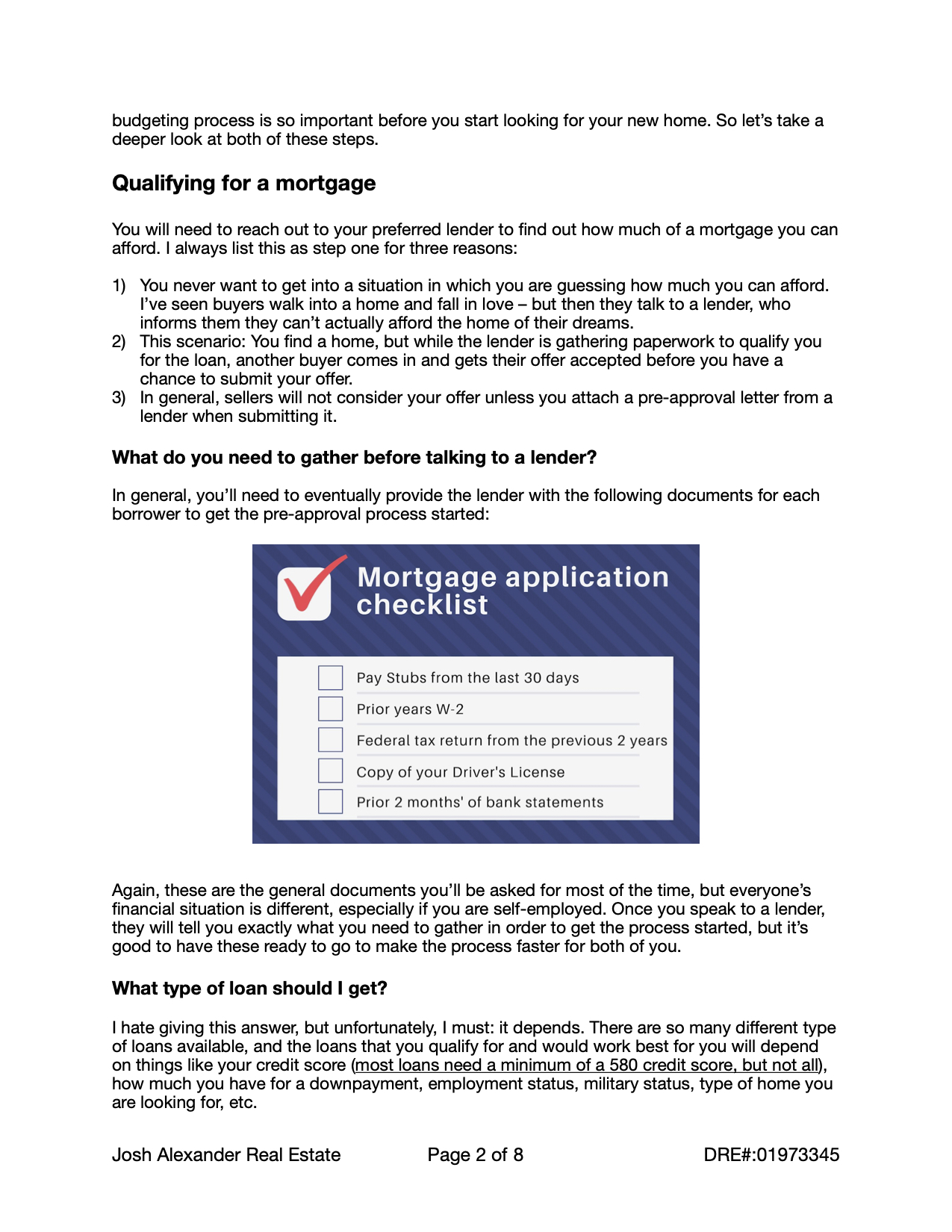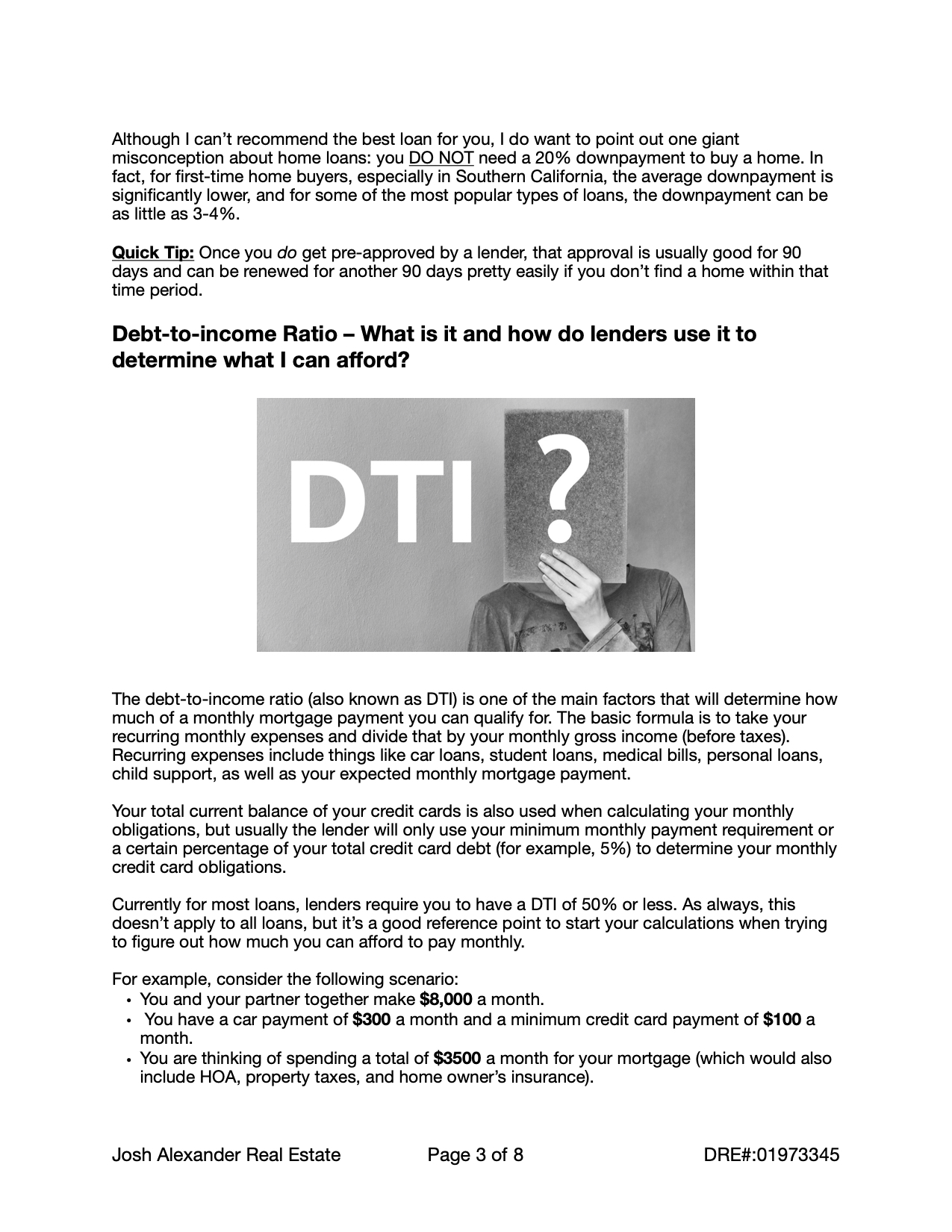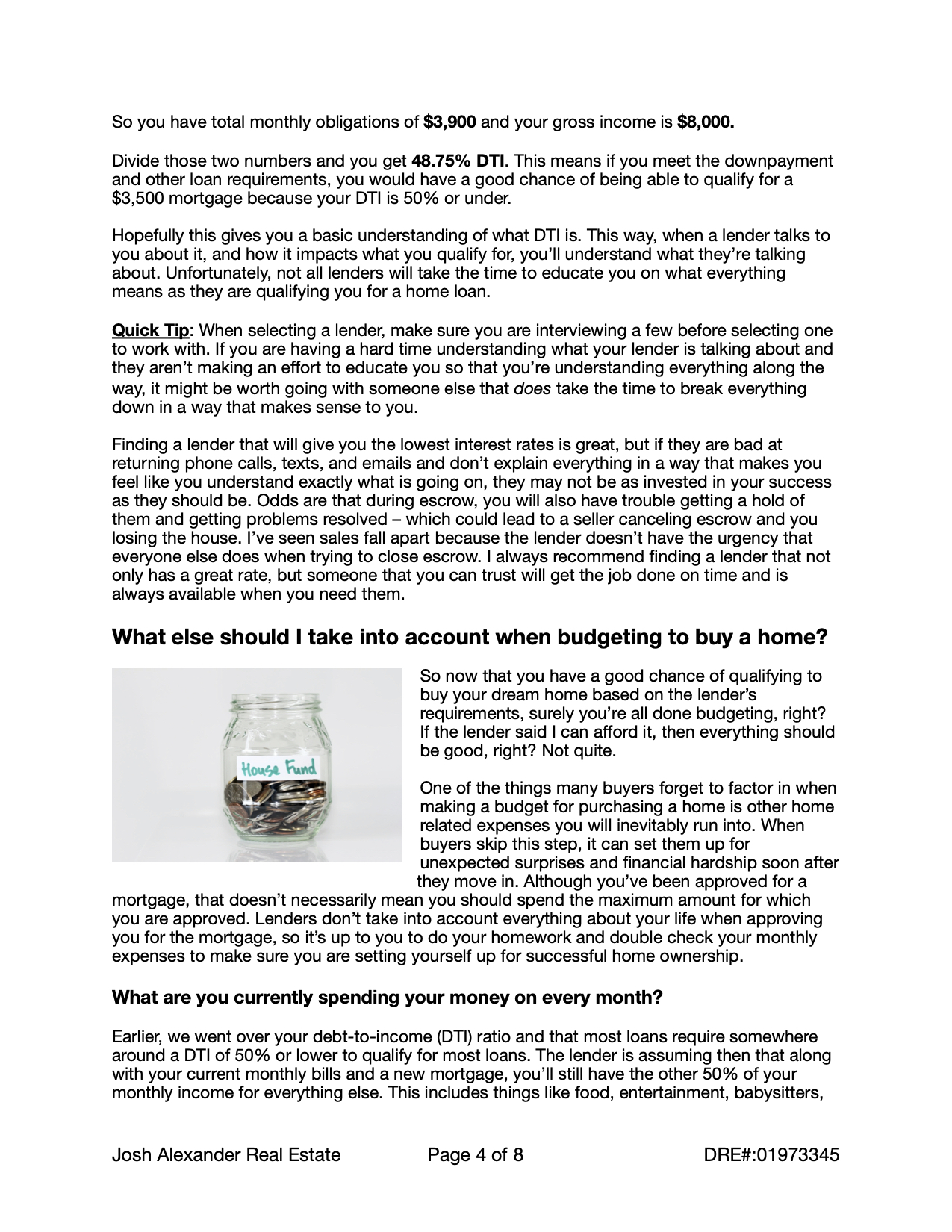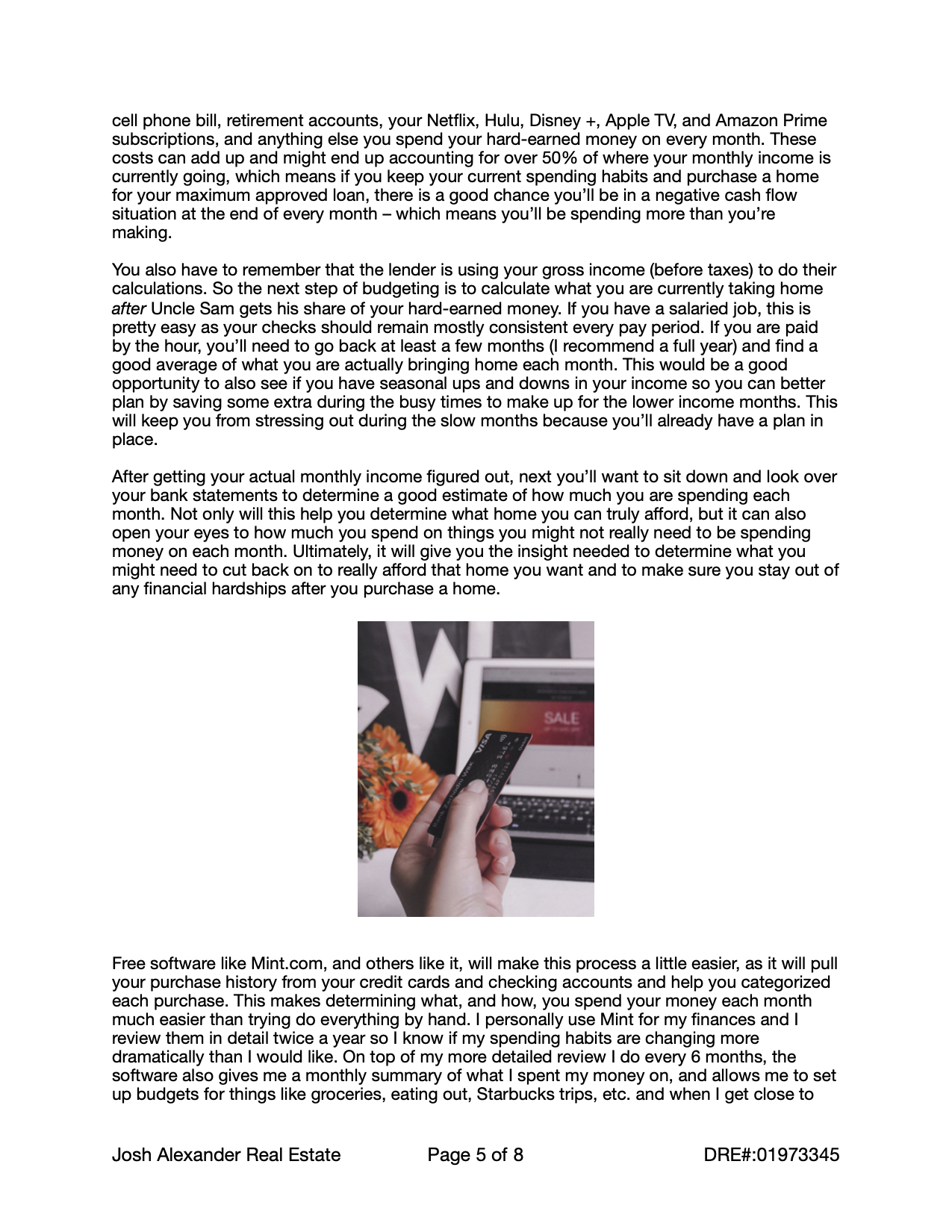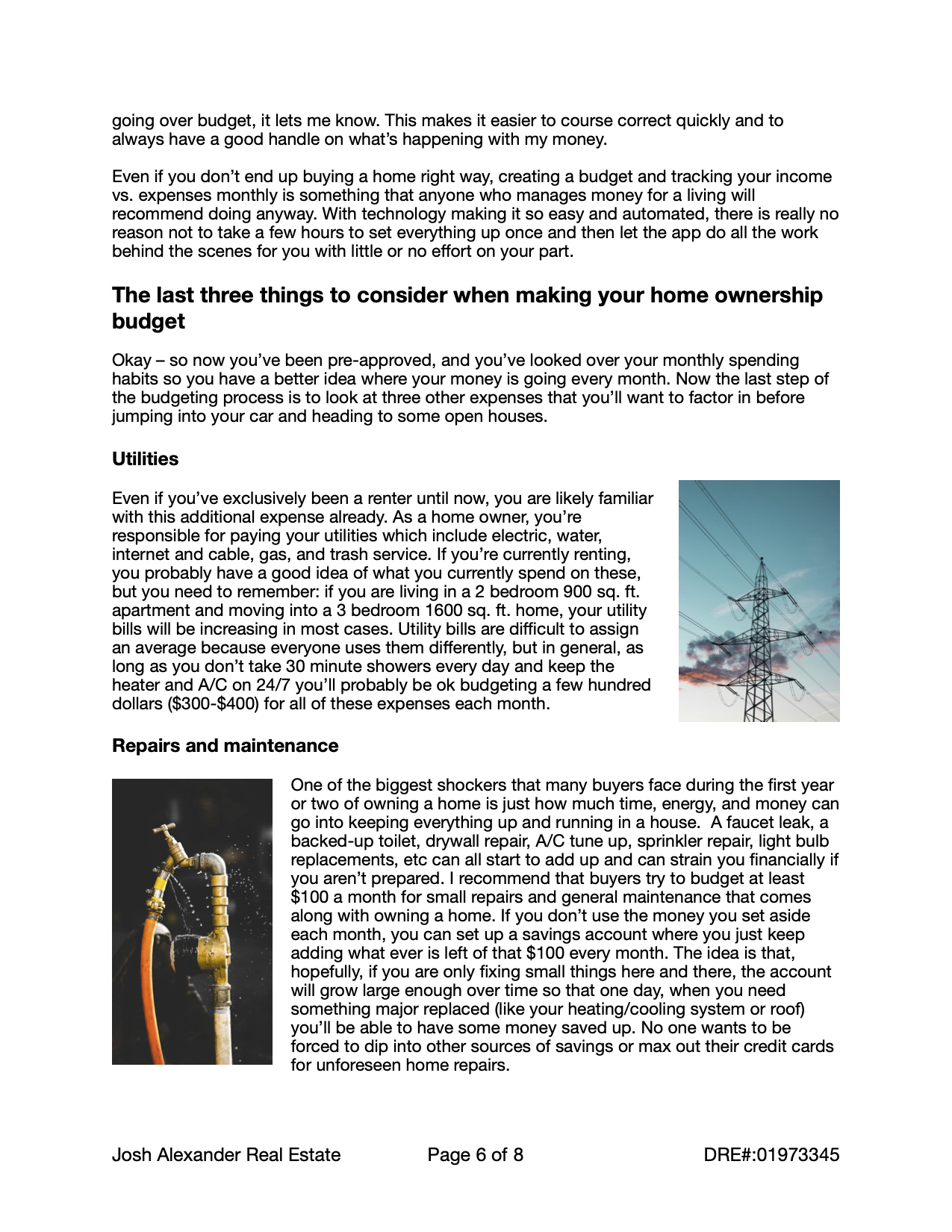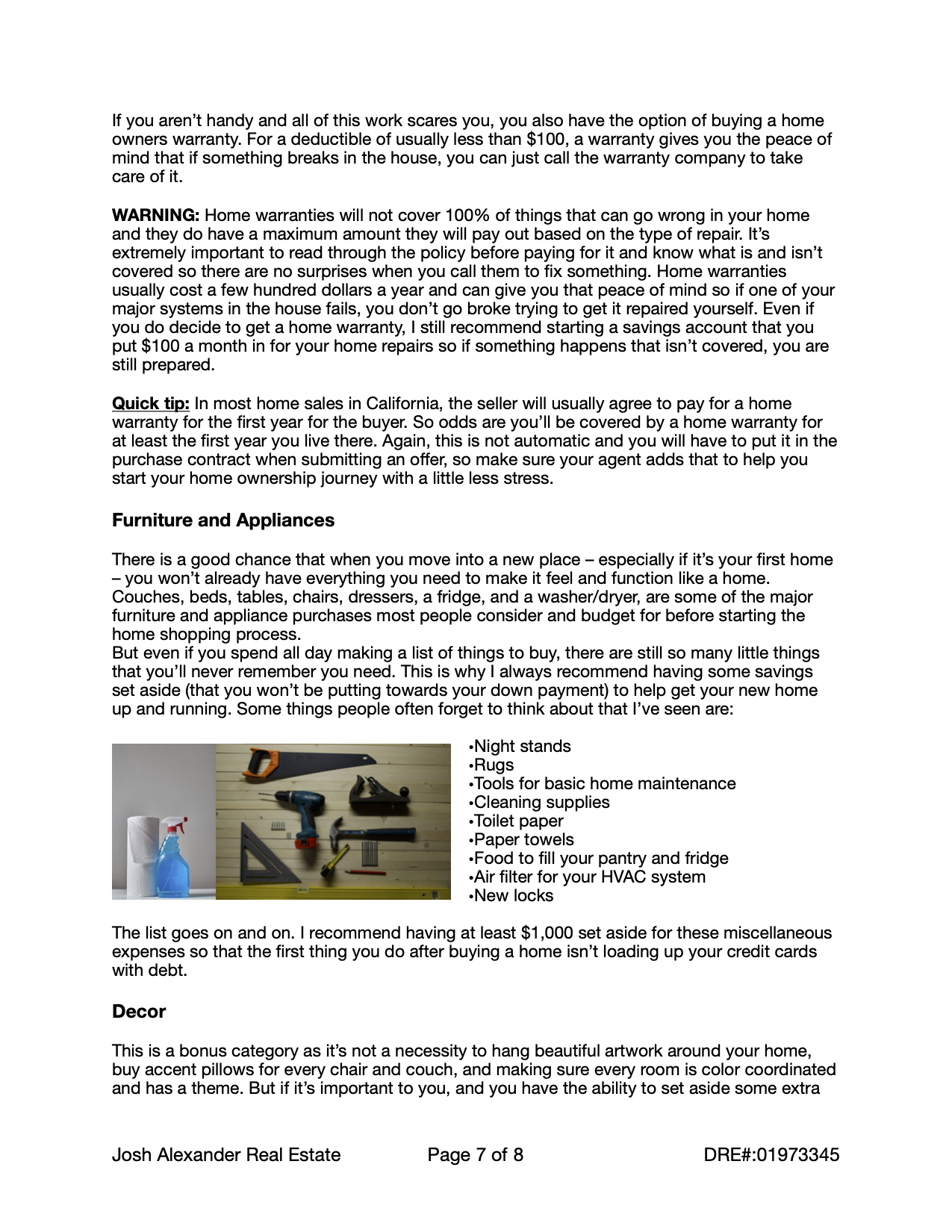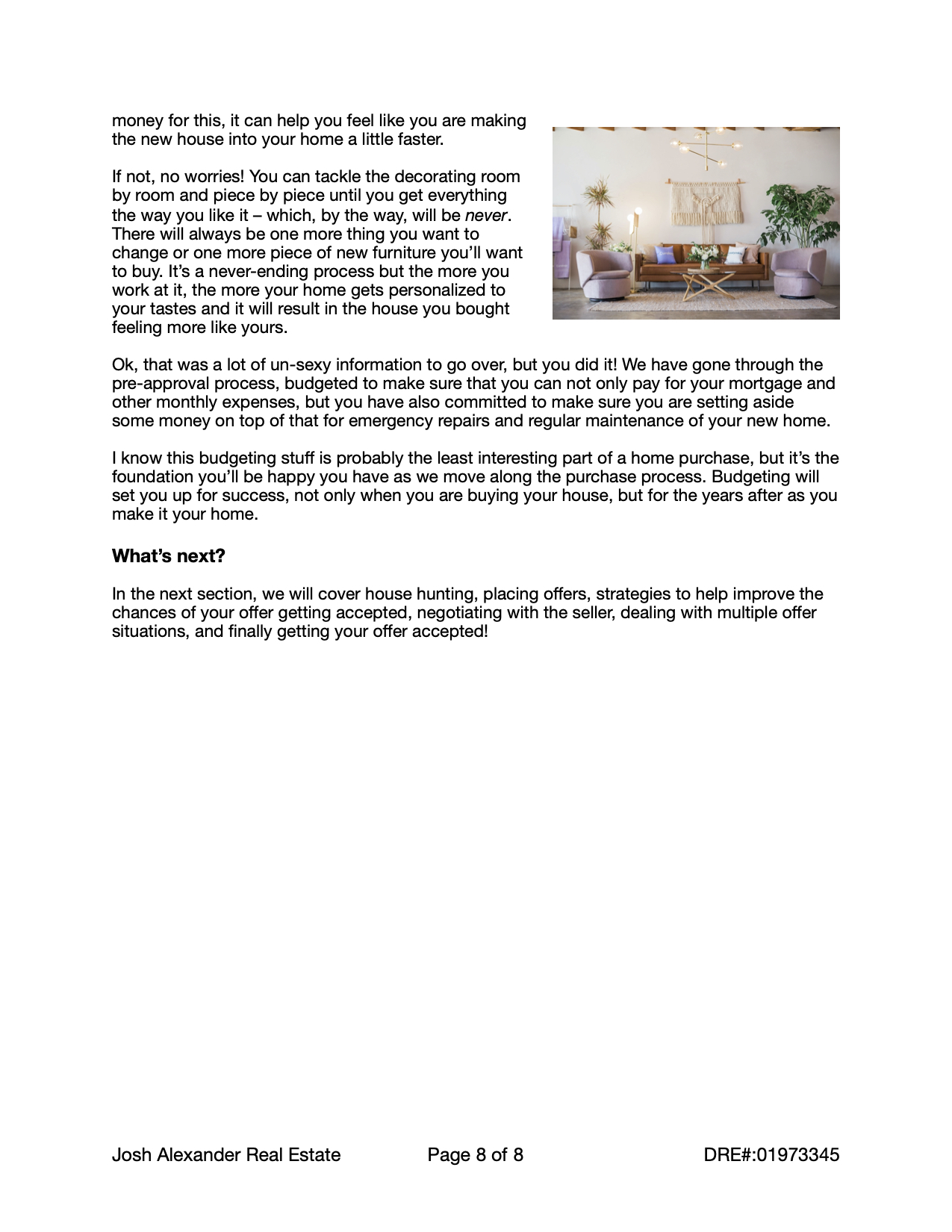 Text only version:
Preparing to buy a home
So you're thinking of buying a home – congrats! As one of the largest financial decisions you'll make in your life, I'm sure you're feeling a mixture of excitement and concern about what to expect. The good news is: you're normal. Everyone, especially if this is your first home purchase, goes into the process with so many different emotions that it can often feel overwhelming. Where should I start? What costs are involved? How long will it take to find the perfect place? Can I even qualify or afford to buy a home? What is escrow? What are contingencies? The list goes on and on.
The good news? I will answer these questions and many more in this 5 part series on how to buy a home. I'll walk you through the entire process: from what you need to know before starting to look for a home to the end of escrow and that awesome feeling you'll get as your agent hands you the keys to your new home, then sweeps you off your feet and walks with you in their arms though the threshold of the front door. (All agents do that, right? …Right?)
Part 1: Budgeting
In the first part of this series, I'll be covering the budgeting process and breaking it into two steps:
Step 1) Find out if you qualify for a mortgage loan (assuming you're not paying cash for your home) so you know how much home you can afford and what type of monthly payments to expect.
Step 2) Determine the amount you actually want to spend on your monthly mortgage payments by creating a plan and a budget. The mortgage you are approved for vs. the mortgage you are comfortable with can be two very different numbers – which is why the budgeting process is so important before you start looking for your new home. So let's take a deeper look at both of these steps.
Qualifying for a mortgage
You will need to reach out to your preferred lender to find out how much of a mortgage you can afford. I always list this as step one for three reasons:
You never want to get into a situation in which you are guessing how much you can afford. I've seen buyers walk into a home and fall in love – but then they talk to a lender, who informs them they can't actually afford the home of their dreams.
This scenario: You find a home, but while the lender is gathering paperwork to qualify you for the loan, another buyer comes in and gets their offer accepted before you have a chance to submit your offer.
In general, sellers will not consider your offer unless you attach a pre-approval letter from a lender when submitting it.
What do you need to gather before talking to a lender?
In general, you'll need to eventually provide the lender with the following documents for each borrower to get the pre-approval process started:
Again, these are the general documents you'll be asked for most of the time, but everyone's financial situation is different, especially if you are self-employed. Once you speak to a lender, they will tell you exactly what you need to gather in order to get the process started, but it's good to have these ready to go to make the process faster for both of you.
What type of loan should I get?
I hate giving this answer, but unfortunately, I must: it depends. There are so many different type of loans available, and the loans that you qualify for and would work best for you will depend on things like your credit score (most loans need a minimum of a 580 credit score, but not all), how much you have for a downpayment, employment status, military status, type of home you are looking for, etc.
Although I can't recommend the best loan for you, I do want to point out one giant misconception about home loans: you DO NOT need a 20% downpayment to buy a home. In fact, for first-time home buyers, especially in Southern California, the average downpayment is significantly lower, and for some of the most popular types of loans, the downpayment can be as little as 3-4%.
Quick Tip: Once you do get pre-approved by a lender, that approval is usually good for 90 days and can be renewed for another 90 days pretty easily if you don't find a home within that time period.
Debt-to-income Ratio – What is it and how do lenders use it to determine what I can afford?
The debt-to-income ratio (also known as DTI) is one of the main factors that will determine how much of a monthly mortgage payment you can qualify for. The basic formula is to take your recurring monthly expenses and divide that by your monthly gross income (before taxes). Recurring expenses include things like car loans, student loans, medical bills, personal loans, child support, as well as your expected monthly mortgage payment.
Your total current balance of your credit cards is also used when calculating your monthly obligations, but usually the lender will only use your minimum monthly payment requirement or a certain percentage of your total credit card debt (for example, 5%) to determine your monthly credit card obligations.
Currently for most loans, lenders require you to have a DTI of 50% or less. As always, this doesn't apply to all loans, but it's a good reference point to start your calculations when trying to figure out how much you can afford to pay monthly.
For example, consider the following scenario:
You and your partner together make $8,000 a month.
You have a car payment of $300 a month and a minimum credit card payment of $100 a month.
You are thinking of spending a total of $3500 a month for your mortgage (which would also include HOA, property taxes, and home owner's insurance).
So you have total monthly obligations of $3,900 and your gross income is $8,000.
Divide those two numbers and you get 48.75% DTI. This means if you meet the downpayment and other loan requirements, you would have a good chance of being able to qualify for a $3,500 mortgage because your DTI is 50% or under.
Hopefully this gives you a basic understanding of what DTI is. This way, when a lender talks to you about it, and how it impacts what you qualify for, you'll understand what they're talking about. Unfortunately, not all lenders will take the time to educate you on what everything means as they are qualifying you for a home loan.
Quick Tip: When selecting a lender, make sure you are interviewing a few before selecting one to work with. If you are having a hard time understanding what your lender is talking about and they aren't making an effort to educate you so that you're understanding everything along the way, it might be worth going with someone else that does take the time to break everything down in a way that makes sense to you.
Finding a lender that will give you the lowest interest rates is great, but if they are bad at returning phone calls, texts, and emails and don't explain everything in a way that makes you feel like you understand exactly what is going on, they may not be as invested in your success as they should be. Odds are that during escrow, you will also have trouble getting a hold of them and getting problems resolved – which could lead to a seller canceling escrow and you losing the house. I've seen sales fall apart because the lender doesn't have the urgency that everyone else does when trying to close escrow. I always recommend finding a lender that not only has a great rate, but someone that you can trust will get the job done on time and is always available when you need them.
What else should I take into account when budgeting to buy a home?
So now that you have a good chance of qualifying to buy your dream home based on the lender's requirements, surely you're all done budgeting, right? If the lender said I can afford it, then everything should be good, right? Not quite.
One of the things many buyers forget to factor in when making a budget for purchasing a home is other home related expenses you will inevitably run into. When buyers skip this step, it can set them up for unexpected surprises and financial hardship soon after they move in. Although you've been approved for a mortgage, that doesn't necessarily mean you should spend the maximum amount for which you are approved. Lenders don't take into account everything about your life when approving you for the mortgage, so it's up to you to do your homework and double check your monthly expenses to make sure you are setting yourself up for successful home ownership.
What are you currently spending your money on every month?
Earlier, we went over your debt-to-income (DTI) ratio and that most loans require somewhere around a DTI of 50% or lower to qualify for most loans. The lender is assuming then that along with your current monthly bills and a new mortgage, you'll still have the other 50% of your monthly income for everything else. This includes things like food, entertainment, babysitters, cell phone bill, retirement accounts, your Netflix, Hulu, Disney +, Apple TV, and Amazon Prime subscriptions, and anything else you spend your hard-earned money on every month. These costs can add up and might end up accounting for over 50% of where your monthly income is currently going, which means if you keep your current spending habits and purchase a home for your maximum approved loan, there is a good chance you'll be in a negative cash flow situation at the end of every month – which means you'll be spending more than you're making.
You also have to remember that the lender is using your gross income (before taxes) to do their calculations. So the next step of budgeting is to calculate what you are currently taking home after Uncle Sam gets his share of your hard-earned money. If you have a salaried job, this is pretty easy as your checks should remain mostly consistent every pay period. If you are paid by the hour, you'll need to go back at least a few months (I recommend a full year) and find a good average of what you are actually bringing home each month. This would be a good opportunity to also see if you have seasonal ups and downs in your income so you can better plan by saving some extra during the busy times to make up for the lower income months. This will keep you from stressing out during the slow months because you'll already have a plan in place.
After getting your actual monthly income figured out, next you'll want to sit down and look over your bank statements to determine a good estimate of how much you are spending each month. Not only will this help you determine what home you can truly afford, but it can also open your eyes to how much you spend on things you might not really need to be spending money on each month. Ultimately, it will give you the insight needed to determine what you might need to cut back on to really afford that home you want and to make sure you stay out of any financial hardships after you purchase a home.
Free software like Mint.com, and others like it, will make this process a little easier, as it will pull your purchase history from your credit cards and checking accounts and help you categorized each purchase. This makes determining what, and how, you spend your money each month much easier than trying do everything by hand. I personally use Mint for my finances and I review them in detail twice a year so I know if my spending habits are changing more dramatically than I would like. On top of my more detailed review I do every 6 months, the software also gives me a monthly summary of what I spent my money on, and allows me to set up budgets for things like groceries, eating out, Starbucks trips, etc. and when I get close to going over budget, it lets me know. This makes it easier to course correct quickly and to always have a good handle on what's happening with my money.
Even if you don't end up buying a home right way, creating a budget and tracking your income vs. expenses monthly is something that anyone who manages money for a living will recommend doing anyway. With technology making it so easy and automated, there is really no reason not to take a few hours to set everything up once and then let the app do all the work behind the scenes for you with little or no effort on your part.
The last three things to consider when making your home ownership budget
Okay – so now you've been pre-approved, and you've looked over your monthly spending habits so you have a better idea where your money is going every month. Now the last step of the budgeting process is to look at three other expenses that you'll want to factor in before jumping into your car and heading to some open houses.
Utilities
Even if you've exclusively been a renter until now, you are likely familiar with this additional expense already. As a home owner, you're responsible for paying your utilities which include electric, water, internet and cable, gas, and trash service. If you're currently renting, you probably have a good idea of what you currently spend on these, but you need to remember: if you are living in a 2 bedroom 900 sq. ft. apartment and moving into a 3 bedroom 1600 sq. ft. home, your utility bills will be increasing in most cases. Utility bills are difficult to assign an average because everyone uses them differently, but in general, as long as you don't take 30 minute showers every day and keep the heater and A/C on 24/7 you'll probably be ok budgeting a few hundred dollars ($300-$400) for all of these expenses each month.
Repairs and maintenance
One of the biggest shockers that many buyers face during the first year or two of owning a home is just how much time, energy, and money can go into keeping everything up and running in a house. A faucet leak, a backed-up toilet, drywall repair, A/C tune up, sprinkler repair, light bulb replacements, etc can all start to add up and can strain you financially if you aren't prepared. I recommend that buyers try to budget at least $100 a month for small repairs and general maintenance that comes along with owning a home. If you don't use the money you set aside each month, you can set up a savings account where you just keep adding what ever is left of that $100 every month. The idea is that, hopefully, if you are only fixing small things here and there, the account will grow large enough over time so that one day, when you need something major replaced (like your heating/cooling system or roof) you'll be able to have some money saved up. No one wants to be forced to dip into other sources of savings or max out their credit cards for unforeseen home repairs.
If you aren't handy and all of this work scares you, you also have the option of buying a home owners warranty. For a deductible of usually less than $100, a warranty gives you the peace of mind that if something breaks in the house, you can just call the warranty company to take care of it.
WARNING: Home warranties will not cover 100% of things that can go wrong in your home and they do have a maximum amount they will pay out based on the type of repair. It's extremely important to read through the policy before paying for it and know what is and isn't covered so there are no surprises when you call them to fix something. Home warranties usually cost a few hundred dollars a year and can give you that peace of mind so if one of your major systems in the house fails, you don't go broke trying to get it repaired yourself. Even if you do decide to get a home warranty, I still recommend starting a savings account that you put $100 a month in for your home repairs so if something happens that isn't covered, you are still prepared.
Quick tip: In most home sales in California, the seller will usually agree to pay for a home warranty for the first year for the buyer. So odds are you'll be covered by a home warranty for at least the first year you live there. Again, this is not automatic and you will have to put it in the purchase contract when submitting an offer, so make sure your agent adds that to help you start your home ownership journey with a little less stress.
Furniture and Appliances
There is a good chance that when you move into a new place – especially if it's your first home – you won't already have everything you need to make it feel and function like a home. Couches, beds, tables, chairs, dressers, a fridge, and a washer/dryer, are some of the major furniture and appliance purchases most people consider and budget for before starting the home shopping process.
But even if you spend all day making a list of things to buy, there are still so many little things that you'll never remember you need. This is why I always recommend having some savings set aside (that you won't be putting towards your down payment) to help get your new home up and running. Some things people often forget to think about that I've seen are:
Night stands
Rugs
Tools for basic home maintenance
Cleaning supplies
Toilet paper
Paper towels
Food to fill your pantry and fridge
Air filter for your HVAC system
New locks
The list goes on and on. I recommend having at least $1,000 set aside for these miscellaneous expenses so that the first thing you do after buying a home isn't loading up your credit cards with debt.
Decor
This is a bonus category as it's not a necessity to hang beautiful artwork around your home, buy accent pillows for every chair and couch, and making sure every room is color coordinated and has a theme. But if it's important to you, and you have the ability to set aside some extra money for this, it can help you feel like you are making the new house into your home a little faster.
If not, no worries! You can tackle the decorating room by room and piece by piece until you get everything the way you like it – which, by the way, will be never. There will always be one more thing you want to change or one more piece of new furniture you'll want to buy. It's a never-ending process but the more you work at it, the more your home gets personalized to your tastes and it will result in the house you bought feeling more like yours.
Ok, that was a lot of un-sexy information to go over, but you did it! We have gone through the pre-approval process, budgeted to make sure that you can not only pay for your mortgage and other monthly expenses, but you have also committed to make sure you are setting aside some money on top of that for emergency repairs and regular maintenance of your new home.
I know this budgeting stuff is probably the least interesting part of a home purchase, but it's the foundation you'll be happy you have as we move along the purchase process. Budgeting will set you up for success, not only when you are buying your house, but for the years after as you make it your home.
What's next?
In the next section, we will cover house hunting, placing offers, strategies to help improve the chances of your offer getting accepted, negotiating with the seller, dealing with multiple offer situations, and finally getting your offer accepted!